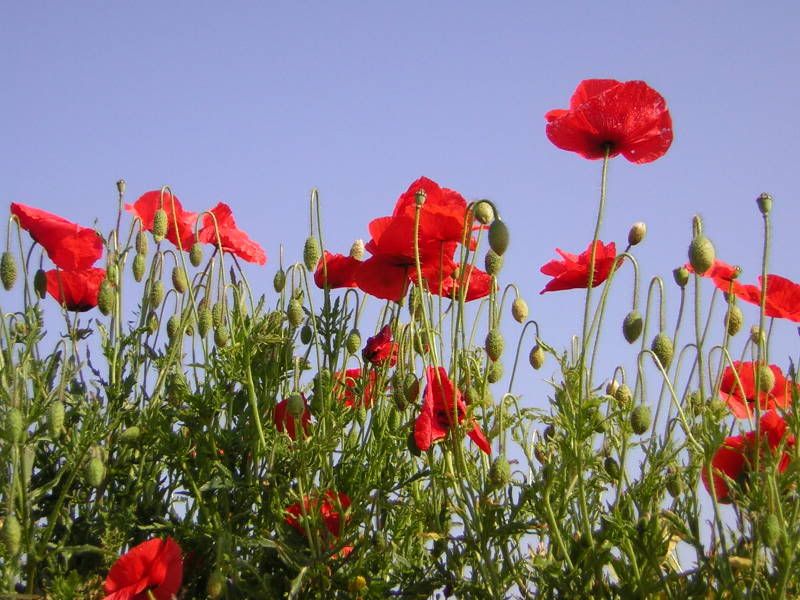 Poppies on a wall at Kingsbarns Fife. Monday 11th June 07.
Good Afternoon, suffering as I am with writers block it has been a while since my last entry. It is like winter out there today and it is really depressing summers seems to be slipping by the last week or so has been awful east coast haar an odd bright spell in the afternoon, today its dull with a strong east north east wind blowing and it is freezing. Stuart went out to cut the grass this morning with a fleecy top on and was still cold think I'll emigrate somewhere the sunshine is not rationed.
Been watching a bit of Big Brother managed to get my portable in the kitchen set up on E4 so I don't annoy Stu too much as he hates it with avengeance and I do like a quiet life.
Still on the same book as last time as there are about 700 pages and with not been out sitting in the sun so much am a bit slower than of late getting through it but will get there. According to today's paper reading exciting books is great for weight loss so with reading Matthew Reilly I should be like a reed.
This morning my Stuart read me this poem from today's Daily Express (they have a forgotten verse in everyday and today's really caught the imagination of a couple of oldies:-

A Good Play



We built a ship upon the stairs
All made of the back-bedroom chairs,
And filled it full of soft pillows
To go a-sailing on the billows.

We took a saw and several nails,
And water in the nursery pails;
And Tom said, "Let us also take
An apple and a slice of cake;"--
Which was enough for Tom and me
To go a-sailing on, till tea.

We sailed along for days and days,
And had the very best of plays;
But Tom fell out and hurt his knee,
So there was no one left but me.

Robert Louis Stevenson
#################

I do hope you enjoyed reading this little poem as much as we did or finding it again whatever the case may be.
Well that about it for me just now will try to keep up with alerts better this coming week as I have been very bad these last few days. Bye for now take care. Love
Joan.