There is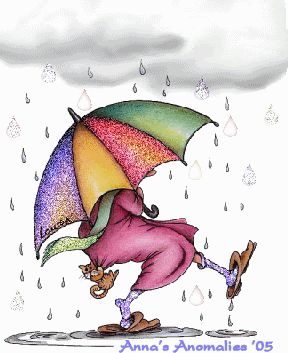 just not another graphic that I have that sums up this week as well as this one. It has been a terrible week it has been raining almost all week with the exception of Wednesday which was a lovely day. Even today the wind is down a bit but it is still blowing hard there are even waves on the bird bath.We have done all our usual things this week and had Ellen for the day on Tuesday, she did not go back to school till Wednesday. She brought here scooter that Santa brought with her and it faired long enough for us to get out for a walk/scoot in the afternoon so that sort of tired her out a bit she is such a live wire its hard to keep up at times.
A few days before Christmas Stuart had an email from an old friend with whom we had lost touch about 14 years ago. He had seen an entry Stuart had made in a local birdwatching web page and put two and two together and took a chance that it was Stuart he was emailing. We arranged to meet him yesterday and sat for 3 hours chatting about this that and the other. It was great to see him again looking well as he had been ill and nearly lost his life just like Stuart. I took a picture of the two of them together but it is blurred like my Christmas pictures were. Think I have been holding the button down too long, and that has been making the flash go off twice. Nothing else has been happening up here not been out much with all this rain and wind hoping for a better week next week.
Have booked in for a perm next week as my hair is a nightmare just now sit for ages trying to get some shape into it in the morning and I just have to go out for two minutes and it is straight again have lasted 11 months since my last perm so have done well but January always seems to get the better of my hair.
Hospital appointment on Monday for my HRT review.Have been trying to cut down very slowly as instructed and am down to half the dose but it is very hard. I also have an appointment with Audiology to have a service on my hearing aids so will have a busy day on Monday and Tuesday.
Have been passing the time playing games on the PC but am thinking about getting another portable TV so I can get my playstation set up again. Don't like to play it in the kitchen where our portable is set up and it is an awful scutter tuning in everytime I want to change from one to the other.
Think I have rabbited on about nothing long enough so I will close now hope you have a pleasant evening, us, we are going to watch the Harry Potter on the TV as we have not seen that particular movie so am looking forward to that.
Bye for now,
Joan.